The Official Shadow Warrior Strategies & Secrets Guide is guide to all secrets found in Shadow Warrior Classic.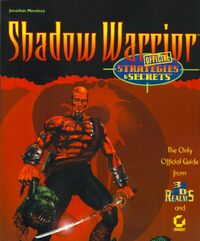 Be the best Ninja warrior you can be with this exclusive, official guide to the latest first-person 3D-adventure game from the makers of Duke Nukem 3D. Shadow Warrior is the ultimate 3D game--you can run, swim, jump, fly, climb ladders, drive tanks and boats, operate artillery, and destroy your environment--but only if you have this book to tell you how! Secret codes, insider tips, and interviews with the game's developers make this exclusive, official book a must for serious gamers. Written with the full support and cooperation of the development team at 3D Realms and Apogee, it contains cheat codes, special hints, and interviews that are available nowhere else. Further, this exclusive, official guide will be promoted on a special screen in the game itself!
Ad blocker interference detected!
Wikia is a free-to-use site that makes money from advertising. We have a modified experience for viewers using ad blockers

Wikia is not accessible if you've made further modifications. Remove the custom ad blocker rule(s) and the page will load as expected.